AMERICAN NATIONAL RED CROSS
EIN: 53--0196605
GENERAL INFORMATION

Secondary Name:
SHARED SERVICES CENTER
In Care of:
JENNIFER HAWKINS
Location:
431 18TH ST NW, Washington, DC, 20006
Category :
Human Services
NTEE Codes:
P210
Classification(s):
Human Services ? Multipurpose and Other

Description(s):
American Red Cross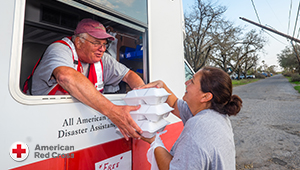 Hilton continues to pledge our full commitment to helping the communities impacted by the devastation of this hurricane season. With the support of the American Red Cross, we would like to give our members the opportunity to support the relief efforts through Hilton Honors point donations.
Join us in our efforts as we will match point donations up to $250,000 through October 31, 2017.

The American Red Cross is working around the clock to help the thousands of people whose lives have been devastated by these tropical storms. All donations to this fund will support the efforts of the American Red Cross.

Thank you for extending your care and generosity.